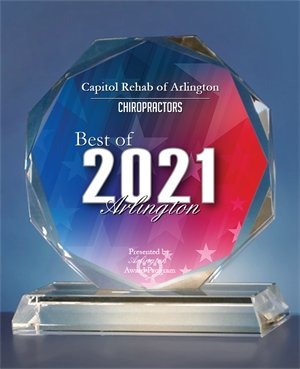 Capitol Rehab of Arlington was selected for the 2021 Best of Arlington Award in the Chiropractors category by the Arlington Award Program. The award honors small businesses that demonstrate marketing success, community involvement, and innovative business practices in the marketplace.
We were notified of the award last month and were pleasantly surprised that we received the communication on the exact date of our 25th anniversary!
This is how the organization explained the award selection.
"The companies chosen exemplify the best of small business; often leading through customer service and community involvement.
"For most companies, this recognition is a result of your dedication and efforts as well as the work of others in your organization that have helped build your business. Your team is now a part of an exclusive group of small businesses that have achieved this selection."
According to Arlington Awards Program, companies are evaluated based on input by independent third-parties. The selection process does not include nominations, voting, contests, or surveys.
Award organizers said they work exclusively with local business owners, trade groups, professional associations, and other business advertising and marketing groups to identify and recognize the small business community's contributions to the U.S. economy.
Each year, the Arlington Award Program identifies companies that it believes have achieved "exceptional success" through enhancement of the "positive image of small business through service to their customers and our community. These exceptional companies help make the Arlington area a great place to live, work and play."
We agree that Arlington is a great place to live, work, and play, and we love serving and being part of this community. Thanks to all of you, our Arlington community, for your support throughout the years. We look forward to many more years of service and we are delighted that we have earned the support of so many businesses and patients.
As we look forward to emerging from the COVID-19 pandemic and hosting activities in honor of our 25th anniversary, we hope that you will join us in celebration. Please add your name to our list if you would like to participate in these events.